OSHO Bardo
OSHO Bardo can be used as a regular meditation to help us relax and to know more awareness and joy in our everyday lives. It is also a preparation for the crescendo of life and for the greatest experience of letting go that we will encounter – the letting go of life itself.
The process is a profound and meaningful response to the widely acknowledged need for a new approach to the end-of-life process. Free of any religious or cultural beliefs, it is rooted in the experience of moving into the depth of our inner world.
OSHO Bardo's secular, experiential foundation makes it valuable for those millions of people who are not necessarily related to any religion and who do not look to established religions for support when dying.
Approximately 45 minutes' long, the meditation is set to music. A male and female voice (Sudheer and Maneesha) gently lead the listeners through a state of relaxed, inner alertness, into the light and joy within. Also available in Hindi. More on OSHO Bardo
Buy:
Limited Edition CD £ 17:50 plus postage and packing (1000 copies only)
Click the button to buy the CD  Buy OSHO Bardo CD
Download mp3 version $20.00 + local sales tax
Click the button to buy Buy OSHO Bardo Download
Pain Relief
by tenderly releasing tension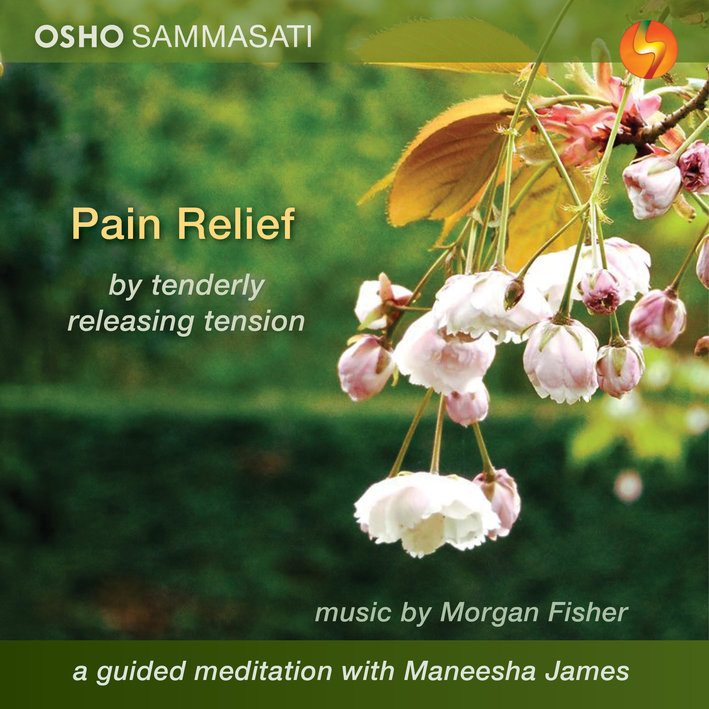 A guided meditation of almost 35 minutes leads us into a space of deep relaxation. With the suggestions to 'soften' around the pain, even to feel tenderly towards our pain, resistance lessens. This can alter our relationship to it, enabling a new-found ability to 'be with' the pain and a marked reduction in our perception of what we are experiencing.
The second track provides the music without the voice while the third is a short bonus track of the 'theme music,' for your enjoyment. Listened to alone it can trigger the same healing effects. More on Pain Relief Guided Meditation
Download mp3  $9.99
Special Release Price only $6.99 until 31.5.18
Click the button to buy Buy Pain Relief Meditation
Tuning into the Moment
This guided meditation was created specifically for those new to meditation. It provides a step-by-step guide to turn your focus from the outside world to an awareness of the inner. Those experienced in meditation will also find that it deepens their existing practice.
More on Tuning into the Moment
Download $9.99
Buy Tuning into the Moment
Online Guided Meditations by Maneesha & Sudheer
Include Everything in Your Being
a short meditative method
This method can be used in virtually any situation. It takes us into a dimension in which, rather than resisting or rejecting whatever we perceive, we consciously accept it.
That inner embracing of whatever is – for example in our bodies, our moods, or our thoughts, (or other people's!) – means we drop the fight and tension. With nobody or nothing to do battle with, we relax and that creates a sense of expansion, softening and even lovingness.
Meditation chairs
Meditation chairs and cushions recommended by Maneesha can be purchased from Delhi-based Friends of Meditation.
Another option recommended by Maneesha is a Basho Meditation Stool from Denmark.